The Isle of Wight
The Isle of Wight is one of England's favourite holiday destinations. It lies just a few miles off the southern coast of England and is served by several passenger and vehicle ferry routes, details of which are in the travel section below.
The Isle of Wight has a wide variety of beautiful countryside to explore. Much of the Isle of Wight is designated an Area of Outstanding Natural Beauty (ANOB) and the scenery varies from sandy beaches to rolling downland and cliffs to quiet woodland and estuaries. The Isle of Wight is ideal if you are looking for a beach holiday, a walking holiday or just to chill out.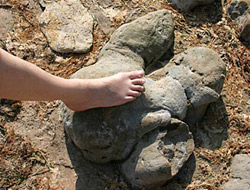 For activity holidays there are over 500 miles of marked footpaths including the round the island coastal path and numerous cross country signed trails. For cyclists there are over 200 miles of bridleways for off road cycling, as well as the 62 mile waymarked Round the Island cycle route on road and the special cycleways build on the discused railway lines that provide good flat cycling through the countryside that is ideal for children. And you can hunt for Dinosaur fossils and find footprints in the sand...
The Isle of Wight has miles of sandy beaches making it an ideal destination for that summer holiday by the seaside. The popular seaside towns of Ryde, Sandown and Shanklin have all the facilities expected with plenty of things to do and places to quench your thirst and enjoy a meal. There are however, many quieter beaches where you can just relax and play on the sand.
Travel Information
Ferries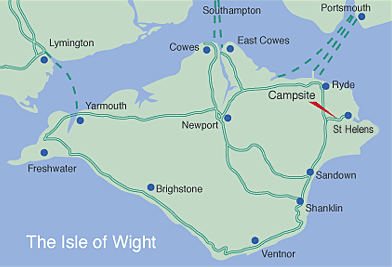 Southampton to East Cowes - Red Funnel vehicle ferry
Southampton to West Cowes - Red Funnel passenger ferry
Tel: 0844 844 9988
Web: www.redfunnel.co.uk
We can book Red Funnel ferry crossings for you. Please ask for details.
Portsmouth to Fishbourne - Wightlink vehicle ferry
Lymington to Yarmouth - Wightlink vehicle ferry
Tel: 0870 582 7744
Web: www.wightlink.co.uk
Portsmouth harbour to Ryde pier head - passenger ferry
Tel: 0870 582 7744
Web: www.wightlink.co.uk
Hovercraft
Portsmouth to Ryde - Hovertravel - passenger ferry
Tel: 01983 811000
Web: www.hovertravel.co.uk
Train
Rail - through train service from Waterloo via Portsmouth and Ryde to Brading station
Tel: 08457 48 49 50
Web: www.southwesttrains.co.uk
Island Line - Train service between Ryde and Shanklin
Tel: 01983 812591
Web: www.island-line.co.uk
Bus
Bus - all island bus routes
Tel: 0870 608 2 608
Web: www.islandbuses.info